This project investigates how social media and online user-generated content can be used to enrich the understanding of the changing job conditions in the US and Ireland by analyzing the moods and topics present in unemployment-related conversations from the open social web and relating them to official unemployment statistics. Two specific questions were addressed: can online conversations provide an early indicator of impending job losses, and can they help policy makers enrich their understanding of the type and sequence of coping strategies employed by individuals?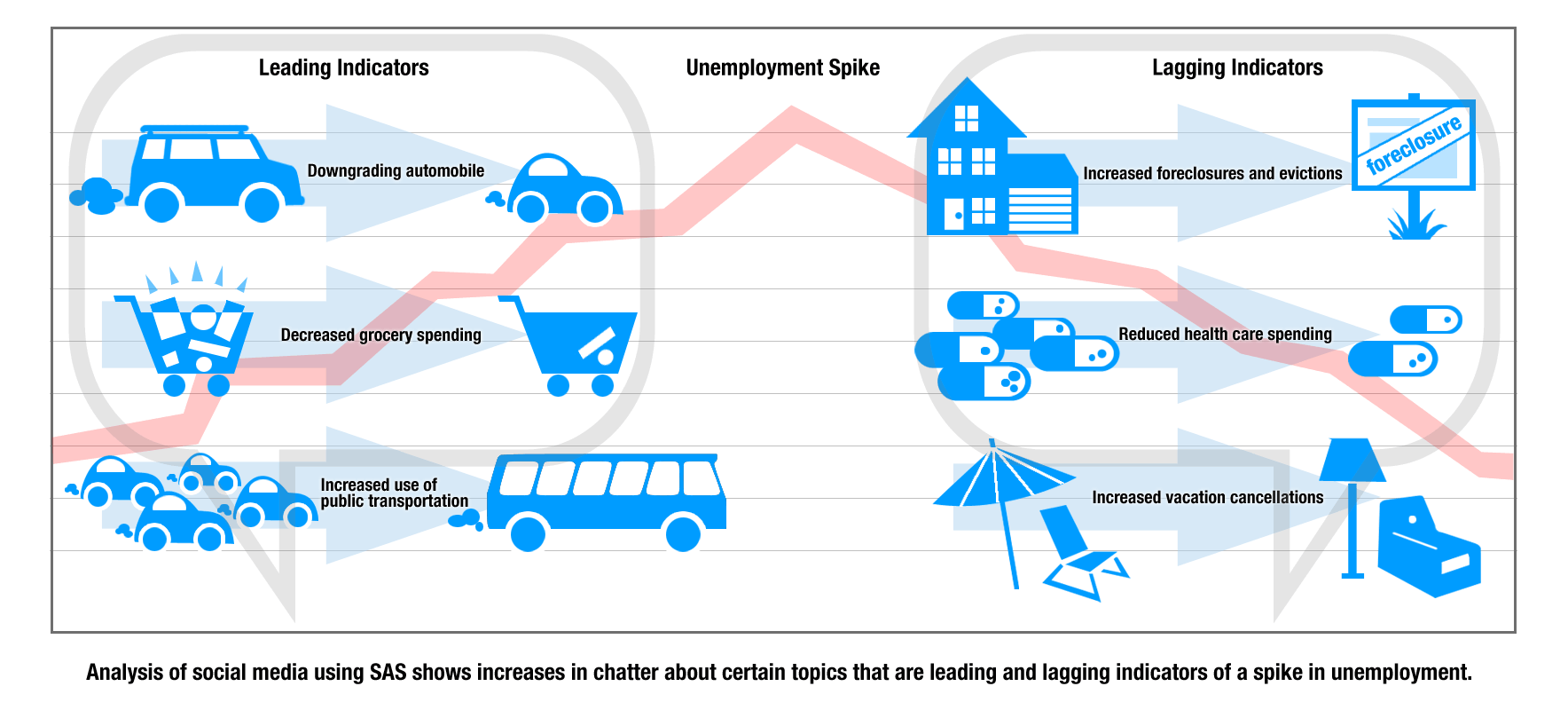 This research investigates whether and how social media and other online user-generated content could enrich understanding of the effect of changing employment conditions. The primary goal is to compare the qualitative information offered by social media with unemployment figures.
To this end, we first selected online job-related conversations from blogs, forums and news from the United States and Ireland. For all documents, a quantitative mood score based on the tone of the conversations—for example happiness, depression or anxiety— was assigned. The number of unemployment-related documents that also dealt with other topics such as housing and transportation was also quantified, in order to gain insight into populations' coping mechanisms.
Analyzing half a million blogs, forums and news sites, two years of social media data from the US and Ireland were analyzed for references to unemployment and how people were coping.
The data was analyzed in two primary ways. First, the quantified mood scoring was correlated to the unemployment rate to discover leading indicators that forecast rises and falls in the unemployment rate. For example, the volume of conversations in Ireland categorized as showing a confused mood correlated with the unemployment rate with a lead-time of three (3) months.
Second, the volume of documents related to coping mechanisms also showed a significant relationship with the unemployment rate, which may give insight into the reactions that can be expected from a population dealing with unemployment. For example, the conversations in the US around the loss of housing increased two (2) months after unemployment spikes.
Overall, in this initial research, SAS and Global Pulse have underlined the potential of online conversations to complement official statistics, by providing a qualitative picture demonstrating how people are feeling and coping with respect to their employment status.
The Dashboard allows the user to investigate the volume of conversations around unemployment as well as the coping mechanisms that are being discussed in relation to unemployment. The Dashboard also identifies time relationships between unemployment, conversation moods, coping mechanisms and various macroeconomic indicators, which allow the user to see patterns and predictions.
Learn More about the Project Methodology:
Watch an Overview Presentation of the Project: